Eagles QBs A to Z
Eagles QBs A to Z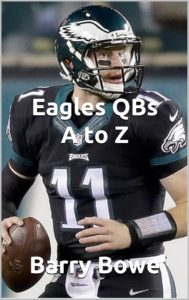 From Irv Kupcinet to Carson Wentz – 62 quarterbacks played for the Philadelphia Eagles since the team's inception in the NFL. At least nine more were either part of preseason rosters, practice squads, and/or dressed for games, but never saw action during the regular season.
Alphabetically, they range from Rick Arrington to Roy Zimmerman.
In addition to being football players, many became interesting characters outside of football. Many also became answers to trivia questions.
All are showcased in Eagles QBs A to Z.